Your one the important goal as an internet marketer is to have the top rankings in the search engines like Google which will give you the maximum amount of exposure.
Thousands of people are flocking to the internet everyday to learn how to make money. Whether it's a little extra money to help cover their bills, or it's to replace a full time job that has just been lost due to recession, the Internet is becoming saturated with new websites and blogs each day. Which means that competition is getting tougher all the time. If you are an online business owner, you have to find a way to compete with all these new websites that are trying to reach your potential customers. Keyword researching is one method in how this is done.
So what is keyword researching? Well, It's a SEO strategy used by internet marketers to find the keywords or we can say "search terms" that people probably type the most into the search engines when looking for any product, services, or information. Your main aim is to beat your competitors by providing Google and other search engines better terms that people are typing in. It's important to know that keyword selection is not about making random guesses and popping a slew of words in your title tag. It should be one of the foundational elements of any search engine optimization campaign.
But Hey! I know What are you thinking. You may be thinking that , What will happen if I don't perform any keyword research? Then mate listen what I am saying.
If you are not performing proper keyword research i.e. you are targeting the wrong keywords then this can have a negative impact on your online business and the products you're promoting. This is also a waste of time, money and effort on your part. Your website or blogs will barely or never have any traffic from the search engines because of it's poor rankings in search results.
Make Use of Keyword Research Tools like KeywordTitan–

Performing a keyword research doesn't have to be difficult. Using a keyword research tool like Keyword Titan will ease your keyword researching part as it will help you find those terms and phrases that you're looking for plus all of its variants.
Keyword Titan automates the process of keyword researching which is done by professional experts not by any bots! You just have to input your keywords and the information is ready to be downloaded or analyze.
There are three ways through which you can have your keyword research list:
1. Pre-built Lists
The company performs Keyword Researching from time to time on keywords which are in high demand amongst internet marketers like "Forex Trading", "Weight Loss" and so on. Thus you don't have to wait for the list to be prepared. So if the company have already performed the research on your desired keyword then you can download in just few minutes after payment.
Each Pre-built list cost you only $15 which is a great investment from an internet marketer point of view.
2. Custom Lists
If you want to have keyword researching be done on the keyword which is specially for your niche and haven't been added to Pre-built list, then you can purchase a Custom List for yourself. This will help you accelerate your marketing campaigns.
Each Custom List cost you only $30 which I think is value for money for your special and secret keywords list.
3. Monthly Subscription
This is really a great way to have unlimited access to the keyword list databse for 1 full month. In this you get:
Unlimited Custom Keyword Lists – 3 at a time
Unlimited access to huge database of 200+ and increasing, popular prebuilt keyword lists
Ability to try new keyword opportunities by entering queries in the master database. And Get Live Results!
Each Subscription cost is just $100.00 for each month, which I think is a great value for money and you must choose this.
What's the Information that the Keyword List Provides?
Each Keyword List provides you the following information:
Keyword
Relevance on a scale of 1-6 to the primary keyword
Estimated search volume per month for that keyword
Estimated Phrase Results i.e how many web pages have one of the keyword in use
Estimated Broad Results i.e how many web pages have all the keywords in use
Estimated Cost you have to pay for being on the top of the Google Paid search results
KEI(Keyword Effectiveness Index) – It tells, how much important or attractive a keyword is for optimizing for search results
PPC competitiveness – It shows the competition amongst the advertisers for that keyword
The PEAK month of that keyword
Here is a clear screenshot of what you get to know after using Keyword Titan: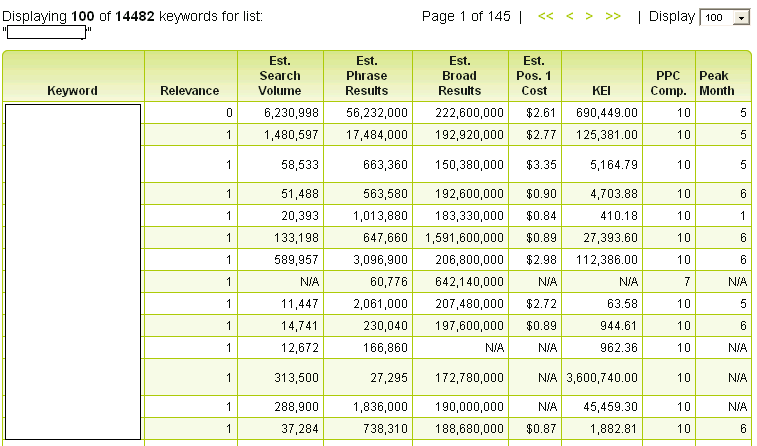 As you have seen that each keyword list provides a lot of information like the statistics of those terms you're looking for so you know how much competition there is. It shows how many advertisers are paying for them and how many times consumers type those terms in the search engines. It is a fairly simple process once you get the hang of it.
The importance of keyword research before you embark on any online campaign cannot be over-emphasized. You need to invest time and effort in carrying this exercise, but once done correctly, you will reap huge dividends down the road. A good keyword research tool will certainly help you perform this more efficiently and effectively and One which I would recommend you to use as a Keyword Researching tool would be Keyword Titan.