WordPress Users can now enjoy better wordpress experience by upgrading to the newer version 2.9 named "Carmen". The new name has been kept in honor of magical jazz vocalist Carmen McRae.
WordPress 2.9 comes Up with many new features as always. The main new features I've actually seen so far are the addition of the "Post Thumbnail" box in the writing screen, the new "Trash" status for posts, pages, and comments, and the image editor in the Media Library.
Here is a list of major features which can be seen in Worpdress 2.9 (source: wordpress.org):
Global undo/"trash" feature, which means that if you accidentally delete a post or comment you can bring it back from the grave (i.e., the Trash). This also eliminates those annoying "are you sure" messages we used to have on every delete.
Built-in image editor allows you to crop, edit, rotate, flip, and scale your images to show them who's boss. This is the first wave of our many planned media-handling improvements.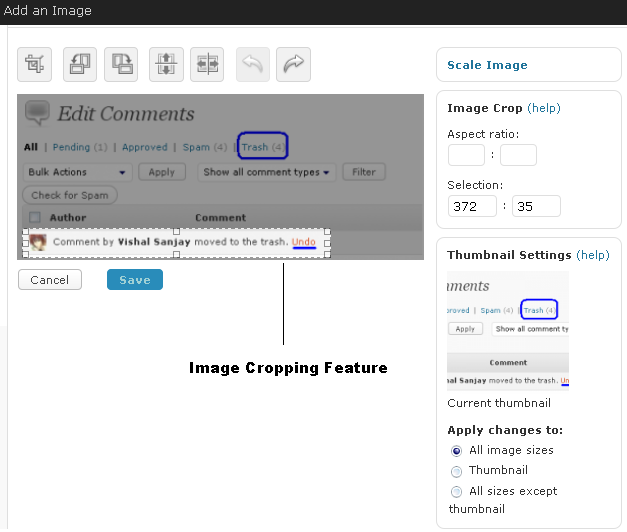 Batch plugin update and compatibility checking, which means you can update 10 plugins at once, versus having to do multiple clicks for each one, and we're using the new compatibility data from the plugins directory to give you a better idea of whether your plugins are compatible with new releases of WordPress. This should take the fear and hassle out of upgrading.
Easier video embeds that allow you to just paste a URL on its own line and have it magically turn it into the proper embed code, with Oembed support for YouTube, Daily Motion, Blip.tv, Flickr, Hulu, Viddler, Qik, Revision3, Scribd, Google Video, Photobucket, PollDaddy, and WordPress.tv (and more in the next release).
You can see these Major Changes in a Video provided by wordpress:
Some other changes which looked interesting to me:
WordPress now have rel=canonical support for better SEO.
There is automatic database optimization support, which you can enable in your wp-config.php file by adding: define('WP_ALLOW_REPAIR', true);
Themes can register "post thumbnails" which allow them to attach an image to the post, especially useful for magazine-style themes.
A new commentmeta table that allows arbitrary key/value pairs to be attached to comments, just like posts, so you can now expand greatly what you can do in the comment framework.
WordPress 2.9 now have upgraded TinyMCE WYSIWYG editing and Simplepie.
Sidebars can now have descriptions so it's more obvious what and where they do what they do.
Specify category templates not just by ID, like before, but by slug, which will make it easier for theme developers to do custom things with categories — like post types!
Registration and profiles are now extensible to allow you to collect things more easily, like a user's Twitter account or any other fields you can imagine.
When you're editing files in the theme and plugin editors it remembers your location and takes you back to that line after you save.
The Press This bookmarklet has been improved and is faster than ever; give it a try for on-the-fly blogging from wherever you are on the internet.
Moreover, WordPress 2.9 have come up with over 500 bugs fix and enhancement.
Beware While Upgrading – You May Face Some Problems
While upgrading, I faced some problems which weren't that too big but it may scare some newbie wordpress user. The automatic upgrade feature which was brought in v2.7 still didn't prove to work good like many have been complaining.
[Remember To Take Backup Of Your WordPress Before Upgrading]
In my case, while using AutoUpgrading feature of WordPress, the installation got hanged and it was showing "Installing WordPress". The blog homepage showed the message "Briefly unavailable for scheduled maintenance. Check back in a minute" to the people. If you face this problem, this means that upgrading wordpress was uncessucceful.
To Solve it:
Access your site files through a FTP program or Cpanel.
Locate a file named ".maintenance"(this file may be hidden).
And then, Delete it. And your readers will be able to read your blog properly.
But since upgrading failed, I was unable to log into my wordpress dashboard and it showed an error – "Call to undefined function get_file_data() in /home/xxxx/public_html/wp-admin/includes/plugin.php on line 81″
Now to quickly fix it:
Access your site files again through Cpanel or a FTP program and go to the plugin folder of your wordpress blog.
Rename that folder so that it will appear "_plugin"
Now you will able to log into your wordpress dashboard
Once done; Try again to upgrade your wordpress version using autoupgrade and it could be successful. Now all you have to do is Delete the newly created "plugin" folder and then rename that folder back to "plugin" which we renamed "_plugin" in above Step 2.
Then you can experience the full functions of WordPress 2.9 properly.
I will stongly suggest you to get upgraded your wordpress to version 2.9 and experience better wordpress experience. Let me know what do you think about new wordpress? Have you upgraded to it? Did you face any kind of problem?
Top 10 Search Terms:
• call to undefined function wp_get_update_data()