This is a guest post by Matt Adamo who loves talking about blogging, copyrighting, social media and you can read his blog at MattAdamo.net
Since the beginning of time there has always been an evil to match every good. Hercules had Hades, Mufasa had Scar, and of course ….. Luke Skywalker had Darth Vader. Now I'm sure you've heard the quote "History Repeats Itself", well that's exactly the case for bloggers.
"For every great blog out there, there is a spammer just waiting to pounce on it."
Well luckily for bloggers, we can actually use spam as a weapon against itself. The one major flaw to spam is that it is VERY easy to spot. Just like anyone in life who is a fake, your natural human instinct can figure them out really quick. So just by being considerate, engaging, and "real", we can actually stand out of the crowd and get some serious exposure.
But before I talk more about that, lets learn the different type of spammers. We've all seen 'em, we've all deleted them, and we all HATE them.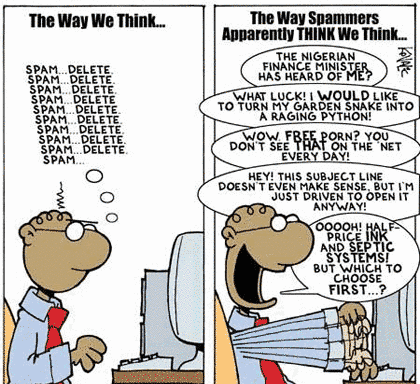 First we have the "Bait & Switchers"
They usually post something like this…
Great Article, 
learn how you can make money online here —> www.Ispampeoplealot.com
Then we have the "Top Commenter" spammers
There only goal is to get as many post on your blog as they can. They do this to get a quick backlinks or to try and get  on the "Top Commenter" list if you have it.
Usually they just see your article and write 2-3 words like "nice post man blah blah"
We also have the blatant generic advertiser spammers
These people have absolutely NO interest in your blog. They use some type of software to find random wordpress blogs, and then in hopes of a backlink they will write something like…
I find "insertsitenamehere.com" to be a really informative site. The posts here are fun to read and also very engaging.
They never post with normal names. Always with an anchor text like "car insurance quotes".
Lastly we have the straight up bots
These are usually in a different language or make absolutely NO sense. Usually they have some random letters with a hyperlink in the middle.
[Admin Note]: Actually these are basically built for spamming into forums but they also take wordpress blogs as forums..They use codes which are functional on forums but not on wordpress blogs due to which only their links gets published instead of proper anchor text link on blogs.
So now that we know how to spot them lets talk about how to beat them. Like I said before, With all of the spam out there it's important to make yourself stand out of the crowd. Doing a few little things can really make you seem considerate and "REAL".
Being a blogger, I really love getting a sense of community and the best way to see that is through blog comments. When I see that someone leaves quality blog comments, I almost always go to their blog and leave a comment on their posts, re-tweet it, and if it's really good; share it on my blog. Not only that but if other commentators see a really informative comment they will want to check out your site and see what you're all about (I know for a fact, because I get over 150 hits a day to my blog from blog comments).
If you can learn how to leave quality blog comments than you can really differentiate yourself from the spam and get some great exposure. (This works the same for @ messages on Twitter, and pretty much anything on Facebook)
So here is what you need to do…
Make sure when your write your comment you really connect with what the reader was saying. Yea, you might think the post was great, but don't just write "great post". Tell the blogger why you liked the post. As a blogger I always take these comments to heart and find ways to reward these bloggers.
Make sure you comment regularly on people's blogs. Subscribing to lots of blogs is a great idea. Leaving a quality comment is a great idea, but leaving one on every single post is an AMAZING idea. The blogger will really start to notice you and you wouldn't believe the opportunities that could open up. (traffic, reviews, jv partners,money etc…)
Continue with a conversation or start your own. Frequently on blogs in the comment section you will see a little discussion of it's own. Join in and let yourself be heard, or even start your own discussion.
Some final thoughts
The biggest thing is to make sure you differentiate yourself from everyone else out there. Sometimes spending the extra 30 seconds to write 2 sentences can really make a difference in the long run.
Blog hard, Blog strong!
Always – Matt Adamo