This is a guest post by Ann Smarty who is a SEO consultant.
For most people blog traffic and search analytics is done with help of Google Analytics which is quite understandable because it is free and really advanced.
You can get really in-depth traffic analysis with the tool or, if you don't want to go onto any geeky details, you can just see your traffic sources and keyword referrals.
This post will show you three simple Google Analytics hacks you will love! To try two of the following tips, make sure you have Greasemonkey installed.
1. Export Your Report to Google Docs and Share them easily! (Greasemonkey)
This Greasemonkey script exports up to 10000 rows of Google Analytics data to Google Docs and thus allows a handy option to save, organize and share your reports!
2. See Your Unusual Traffic (Greasemonkey)
Here a cool Greasemonkey script that allows you to see referrals that have sent you unusual traffic:
Referring sites with higher 50% traffic over the last 3 days;
Referring sites appearing  in the last 3 days;
Referring sites with lower 50% traffic over the last 3 days: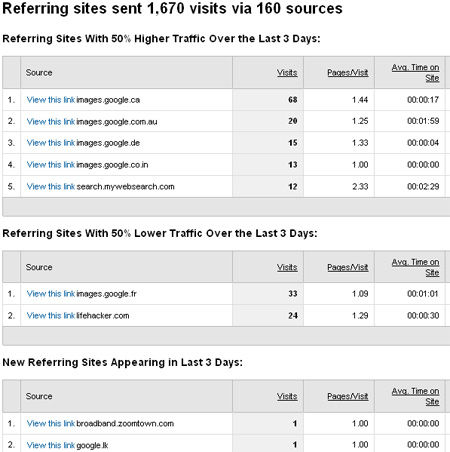 3. Check Your Traffic for the Current day with One Click of a Mouse (Bookmarklet)
Are you obsessed with your search analytics which makes you check your current traffic again and again? If yes, you will love the tip!
Now, to see your traffic and referrals for the current day you need to make at least three clicks but with this handy bookmarklet generator you will need only one!
Just provide your Google Analytics ID and drag the link to your bookmarks toolbar:
I hope you will have find these firefox hacks for Google Analytics pretty interesting. Do give it a try and let me know your opinion about it.
Top 10 Search Terms:
• blogger hacks