Ultimate Blogging Theme is amongst the best wordpress theme that bloggers can use. The newer version of Ultimate Blogging Theme makes it a very useful wordpress theme for those who know coding and even for those who really don't know "abc" of coding but can do some simple clicks and experimentation.
Ultimate Blogging Theme is the best theme if you are really serious about making money blogging and want your blog to touch higher levels that you have dreamed of.
The new Ultimate Blogging Theme 3.0 brings in many outstanding features to customize your blog which you seriously can't count with your fingers. But by grouping them, Here I present an exclusive review of ultimate blogging theme.
A Quick List Of Features Title:
Blog Layout
Color Scheme
Advertising
Social Bookmarking
Navbar Items
Fonts
Miscellaneous Settings
Custom Theme
Inbuilt Post SEO
1. BLOG LAYOUT
The Blog Layout Feature lets you do the basic and important customization of your blog viz. The Logo & The Layout. This can be done simply within few clicks of your mouse.
As you can see in the above image, you can easily change the logo and its position. Plus you can also change the layout of your blog according to your choice.
2. COLOR SCHEME
This feature from ultimate blogging theme lets you change the color of your blog. You can select from custom made colors or could simply change the colors of various elements like author comments, normal comments, navigation bar, background etc.
Did you see how many kind of customization are possible with ultimate blogging theme?
3. ADVERTISING
Ultimate Blogging Theme is having on the spot ad-placements and you will surely get more clicks when banners are placed at these spots. You can simply paste your banner codes in the small boxes and watch your ad appears live at those spots.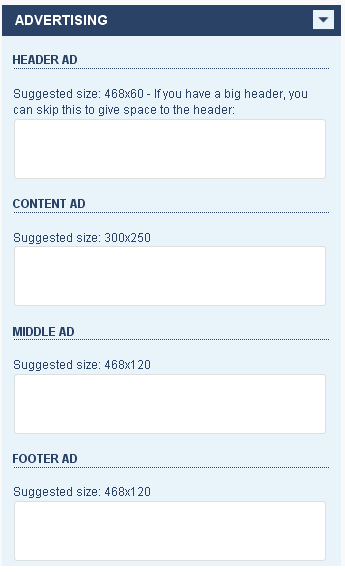 4. SOCIAL BOOKMARKING
In Ultimate Blogging Theme, you can simply enable the social bookmarking icons on your posts with just few clicks. These icons are small and saves lots of space on your blog.
As you can see, it consists of 12 important social bookmarking sites icons. You can simply select the ones you want and enjoy getting your posts bookmarked at those sites.
5. NAVBAR ITEMS
The feature lets you customize what you want in your navigation bar and how you want it to appear.
You can simply drag and drop the items according to the way you want it to appear. Also, you can select the option of showing Navigation Bar above or below the header.
6. FONTS
The new Ultimate Blogging Theme 3.0 now lets you change the fonts on your blog so easily that you wouldn't have ever imagined.
You can easily select the fonts for more than 20 places from a list of 20 preloaded fonts. You can change the color, size and it's style with simple clicks. Isn't that cool feature?
7. MISCELLANEOUS SETTINGS
The miscellaneous settings enables you to:
Add sitemap URL which appears in footer
Add feedbuner ID and URL for easy integration of subscription form
Add header and footer tracking codes
Change the Related Posts count
Enable/Disable Header Boxes and Subscription Box
Change the Featured Posts Settings
Automatic addition of "continue reading post" text after defined amount of words
8. CUSTOM THEME
The new Ultimate Blogging Theme 3.0 now lets you customize your blog the way you want. If you know coding or can here a coder then you can simply use this feature to build your own custom ultimate blogging theme.
I'm really looking forward to use this feature in the future…(ha ha what a rhyming line.)
9. IN-BUILT POST SEO
Ultimate Blogging Theme 3.0 enables you to use inbuilt seo feature for posts. With this you can easily add Title, description and keywords which are very important for seo.
Final Verdict
Ultimate Blogging Theme 3.0 is a great wordpress theme for bloggers. If you are from internet marketing niche, then this is probably the best theme you can have. Ultimate Blogging Theme 3.0 is highly customizable theme now. You will hardly get so many easy to customize options in a theme.
The purchase of Ultimate Blogging Theme gives you free Lifetime updates. So make sure you book it right now before prices increases.
I hope you are very much satisfied from this ultimate blogging theme 3.0 review and you can now take decision whether to buy it or not. Well I will say, Go and Buy It!
On the Ultimate Blogging Theme Homepage, you will find a full video showing how the UBT looks like. You will find purchase buttons after the video has completed properly.
Top 10 Search Terms:
• ubt v 3 0 9 • ultimate blogging theme review • Ultimate Blogging Theme 3 0 • ultimatebloggingtheme