This is a guest post by Adesoji Adegbulu who blogs at MakeMoneyOnlineNg and in this post you will know 5 reasons why people fail in website flipping business and are not able to make money online through this way.
I have been online for a couple of years and I have come to find out that website flipping is undoubtedly one of the fastest growing industries on the internet.
It is a medium where people can really make real money online. Website flipping is just like doing the business of real estate. Sometimes I refer to website flipping as internet real estate.
However, it is also a fact that the industry is hyped to some extent, as there are not many webmasters out there who confirm to have gained huge profits from the business of website flipping.
So what differentiates a successful website flipper from other website flippers?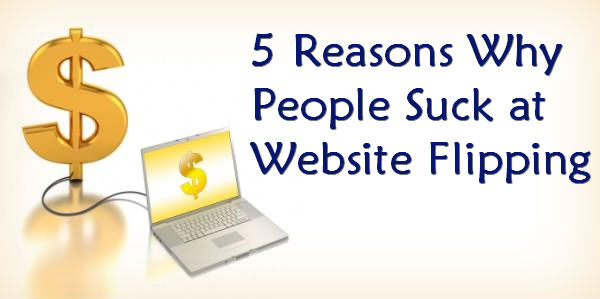 My aim from this article is to help people who are considering website flipping as a serious profession. I also want to help them avoid all the reasons which can hinder their success. Below, you will see 5 reasons why I think people suck at website flipping.
1. Lack of Thorough Market Research
Website flipping is definitely one of the most profitable jobs on the internet, and hence it does not come as a surprise when many skilled webmasters are tempted to jump into the vocation without researching the niches thoroughly. One fact which no webmaster can afford to ignore is the importance of a dynamic niche. Any website, however well-designed, is going to attract potential buyers only if it includes a topic which is of interest to many.
So if you are considering website flipping as a business, you need to carry out a thorough market/internet research for niches people will fall in love with almost immediately. Niches like Feeding, Clothing, Relationship, Shelter, Transportation, Communication, Finance, Leisure & Entertainment, Security etc. will generate lots of traffic/subscribers.
2. Choosing a Niche that Cannot be Monetized
It is not only important to determine on a popular niche, but it is equally important to check the feasibility of the monetizing factor of the determined niche.
One of the primary reason for the failure of many webmasters is that they do not give due importance to the monetizing factor. Websites with niches which are difficult to monetize are likely to fetch very low or no profits.
3. Lack of Quality Content
Quality content plays a very decisive role in determining the value of the website. Any website with a poor content is bound to be ignored by many buyers. Poor content is an indication that the website was dealt by an unprofessional, and hence is very unlikely to attract any high paying buyers.
No doubt that, a website flipper who does not attach due importance to the content factor, is very unlikely to become a successful website flipper.
4. Outrageous Price
Demanding a high price more than the value of the website will cause potential buyers lose interest in such deals. However good a flipped website is, it should be reasonably priced for the buyer to find it attractive and profitable to regain back the investment as quick as possible.
5. Substandard Appearance
The look of the website plays a major role in getting high paying customers. Any website flipper, who fails in beautifying his website, is very unlikely to make it big. Make it a duty to upgrade the looks and feel of the website you want to flip before you start selling.
Conclusion
The above reasons are part of the many things you should avoid as a website flipper. If you are looking into starting the business of website flipping, you should do all you can to read a lot about it.
You should also not rush into making money online from website flipping. Your first impression on the internet matters most. So be careful what your first impression will be made of.
If you have more reasons by people suck in website flipping, then you can help share them using the comment box below.
Top 10 Search Terms:
• why people suck