This is a guest post by Fletcher from BenchmarkEmail.com telling us today the advantages of a full service email marketing option and why you should go with it for your email marketing campaigns.

Email marketing has been going strong since the early days of the internet. Although it can definitely be considered a mature tactic, the evolution of internet technology has made it possible for marketers to enjoy higher conversions and ROI than what was possible in the past.
While you can easily pick yourself up a software package and go at it alone, investing in a full service email marketing solution is probably a smarter route to travel.
Following are some of the many reasons why it is a better option compared to the do-it-yourself method.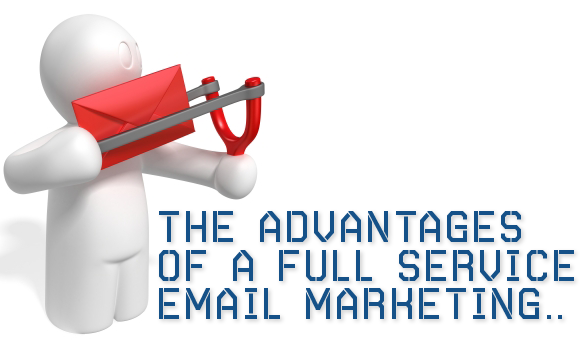 Easy Campaign Creation
Opting for a full service email marketing service makes campaigns easier to create and deploy. This is especially true if you want to send your subscribers HTML messages. Many ESP's provide easy to use HTML editors that allow you to design your emails without having to write a single line of code, thus preventing you from having to adopt programming skills.
In addition, you usually have access to a variety of customizable templates that are ready to go and just waiting for you to apply the finishing touches. More often than not, these templates can be saved and used as often as you need them.
Higher Inbox Delivery
Email services such as those provided by AOL, Google and Yahoo are good for sending messages to friends and family, but not for marketing purposes.
In fact, if you send out too many in a short amount of time, it triggers a red flag that will likely land your message in a spam folder rather than the inbox. You may even have your sending privileges restricted by your own ISP. When partnering up with a reputable email service provider, you have the reassurance of knowing your mail is being sent from an IP address that is in good standings with ISPs and instantly sets you apart from spammers.
The result is the potential for much higher delivery rates.
Comprehensive Reporting Tools
Another good reason that going with a full service email marketing solution makes a better option is due to the comprehensive reporting tools you have access to. Most firms have systems in place that track all the critical aspects of your campaign.
This generally includes the number of people who opened your emails and clicked the links in your message. Some even track the activity that occurs after the click on your website. You also have email service providers that integrate your campaigns with Google Analytics, which typically gives you the freedom to keep track of your own numbers.
Find a Company You Can Trust
These are just some of the advantages up for grabs when choosing a full service email marketing solution. You could always do it yourself of course, but you may be missing out on countless benefits and making the process much harder.
If you want to get the most from your investment, take the time to do a little research and a find reputable company you can trust. Placing your email campaigns, let alone your contact database, into the hands of a full service solution sounds like a poor or lazy decision, but this is not the case for every company.
Many small businesses turn to these full service providers because they are not particularly tech-savvy and wouldn't be able to produce the same results as the provider would. The important part is doing your homework on the company, finding out their deliverability rate and looking at full service campaigns they have sent in the past to ensure their work is premium level.
This is something that can not be overlooked as it can either make or break your marketing efforts.