This is a guest post by Vikas Rawat from SeoBricks.com.
So you have created a Facebook Fan page for your website and hoping that fans will automatically come. This will never happen unless you are promoting a very popular brand.
So what you will do if you have a fresh new website and looking to increase your fan base. Lots of people make the mistake of buying Facebook fans.
In today's article, I'm going to discuss 10 killer Facebook marketing strategies that will really help you increase your Facebook fan base as well as branding for your website on Facebook…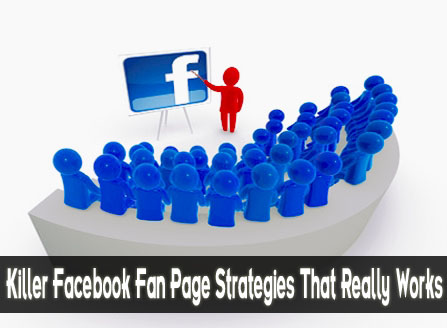 1. Build Your First 25 Fans Quickly
Once you have your fan page running, look for ways to get your first 25 fans very quickly. You should not hesitate in taking help from your friends, relatives to get your first target of 25 fans. And once you got your first 25 fans, click here to migrate to a shorter URL for your fan page.
2. Facebook Fan Page Widget
You should get a Facebook fan page widget here and place that on prominent positions on your website. Presence of Facebook fan page widget will give one more action elements to your website readers and thus will help you generate more likes for your business page on Facebook.
3. Facebook Contests
You can build some quick fans for your website on Facebook by hosting a contest on your Facebook page. To make your contest a success, you should work aggressively for its promotion and should give attractive gifts to the contest winners.
4. Promoting Your Fan Page
There are lots of measures you can actually take for the promotion of your fan page like using your fan page in your email signatures, in your guest posts, when replying to comments on other blogs and towards the end of articles on your website.
5. Regular Content Update
You should be updating your fan page with fresh content with an aim to do maximum interaction with your fans on your Facebook. It should not be the case where you just keep on sharing contents from your website on Facebook page. You should adapt a personalized approach when writing content on your fan page. Ask questions, take views from your fans about a topic, and share interesting images and videos on your fan page.
6. Use Email Subscription List
If you are maintaining an opt-in list of users who are really interested in your website products and services, sending an invitation should help you some extra fans for your business page.
7. Contact Import facility
Why not invite your friends on Gmail, Yahoo and Hotmail to connect you on Facebook. When they accept your friend request, you can ask them do a favor for you by clicking the like button placed against your fan page.
8. Welcome Landing page
Create a welcome landing page for your fan page with the intention to get more likes for your fan page. So your 'welcome' landing page should motive new visitors to like your fan page. You should be showing your 'welcome' landing page to all users who are not fan of your Facebook page.
9. Being More Active On Facebook
You can do lots of activities on Facebook that should promote your fan page even further. These activities can be in the form of being active on other popular Facebook pages, join popular groups, be part of contests on Facebook, write on others wall etc.
10. Use Facebook Ads
You can get some quick fans for your Facebook page by using the advertising option available on Facebook. You should be very targeted when using Facebook advertising.
I have seen these strategies really working for lots of websites when they were looking at ways to improve their fan base on Facebook. So I would suggest trying these techniques and if you feel I missed a killer fan page technique, please share in the comments section below.
A Note by Sushant: I am SURE you enjoyed reading this post written by Vikas. To make it more beneficial for YOU, I have thought to share something really great this time related to Facebook. You will simply LIKE it…But for that, you need to subscribe to my newsletter. So make sure you do it right now because the freebie will be going out tomorrow to all my newsletter subscribers ONLY.
Top 10 Search Terms:
• facebook fan page strategy • facebook fan page strategies • killer fan pages • facebook fan page marketing strategy • fan page strategy • facebook fanpage strategy • fanpage strategy • killer facebook fan page • how to create a killer facebook fan page • killer facebook fan pages