This is a guest post by Patricia Garza from online university rankings.
Bloggers devote a lot of their time to the business side of blogging. This makes sense, of course, as most of the business side helps them bring in an income. But that doesn't mean that the writing aspect of blogging isn't as important.
The writing is what allows bloggers to develop a business mentality! Without content, there's no traffic, and without traffic, there's no revenue from ads and so on.
This means that sometimes bloggers need to get back to the basics and make sure they are writing as good as they possibly can.
In order to do that, they should consider some of the following writing tips. These are tips that have been extremely helpful to me when I sit down to write, so I'm happy to share them with you!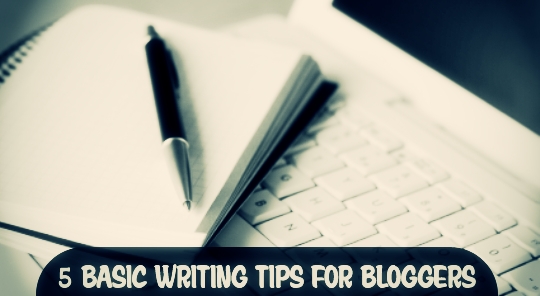 1. Read Something to Inspire You
Before I sit down to write, I usually read a short story, a poem, or I listen to a song with particularly good lyrics. This process helps get me in the creative "zone" by priming my mind to use words in ways that I admire. It's a nice way to relax right before you sit down to the sometimes frustrating process of creating your own work.
2. Always Pre-Write
I always have to pre-write, otherwise I just can't get anything done. Pre-writing really helps me organize my thoughts and keep everything together in my head. Without pre-writing, usually what I write turns into a disorganized mess.
There are plenty of pre-writing strategies you can use, though I usually just use outlining. Whatever you do make sure that you have a plan for your post and that you use pre-writing techniques, such as outlining or mapping or brainstorming, to keep your post focused.
3. Revise Your Work
Next, you should really consider revising the writing that you actually do, especially if you want it to be easily read by your readers. Revising is actually one of the most important parts of writing. You should revise a post after you've had a little bit of time to let it sit.
This allows you to gain some distance on your writing and evaluate what you have written with a fresh eye. Often, you can catch little errors and adjust big thoughts during revision periods. The revision step is basically the icing on the cake for your readers; it's what makes the writing it's very best.
4. Show Your Work to a Friend
This tip is something of an extension of the previous tip, but it's just as instrumental a part of the writing process.
Ideally, the friend you pick to serve as an objective judge of your work is someone who is acquainted with your blog. This editor-friend should also not be afraid to criticize—you want someone who can call the shots as they see them. Meet with them after they've read your post and have a discussion about how it can be improved both content-wise and stylistically.
5. Save Everything
As a writer, I've found that it's really important for me to save all the writing I've done, even if I never used it earlier in another post.
Why do I do this?
Well, because I can sometimes go back to the old unused writings later on, and if I reread them, I can inspire myself to revisit an old topic. Sometimes what I used to think wasn't a good topic actually becomes a great topic later on.
So, remember: if you don't use a post immediately, you should save it and come back to it later one. This is especially helpful when you're feeling blocked, as these old posts can really inspire you.
This post is a part of SmartBloggerz's guest blogging contest where you can win cash prizes for earning the most points. Don't forget the mandatory task that is required to be eligible to win in these cash prizes.

Top 10 Search Terms:
• Basic writing tips • writing tips for bloggers