This is a guest post by Stefan Jacholke of Techno-Flux – The number one place for computer tips and tricks.
Twitter is one of the latest social media apps out there and it's really popular at the moment. You want to use twitter to your advantage to leverage traffic to your site; quality traffic.
Twitter is easy to use and simple.  It only takes a couple of minutes to familiarize yourself with the interface.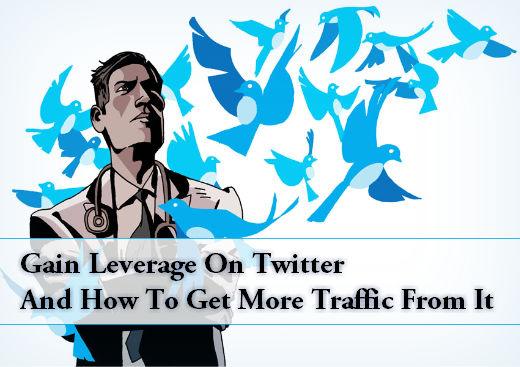 Quality Over Quantity
Twitter is all about quality over quantity. You want to have quality followers. 1000 quality Twitter followers will beat 10000 random Twitter followers. This is really important if you want to use Twitter for Traffic.
There are a lot of Tweeters out there that only use Twitter to spam and self promote. You don't want that; even if they tweet out your stuff. Sure it helps, compare that to a well recognized expert endorsing your tweet. That is way better.
There are a lot of services out there who will provide you twitter followers. Sure they help a little. They might get you 20000 followers. But a person who got 2000 high quality followers will beat that. The quality followers are usually more reputable and if they retweet your message it will get you much more traffic and money. Many think Twitter is only a numbers game; more importantly they think you are popular if you have a huge following.
So make sure you have a lot of followers and then make sure you have a lot of quality followers as well.
Make An Engaging Twitter Profile
Your profile picture and your username are the first things people will see when they visit your Twitter profile page. Make your profile engaging and fill out your interests. You need to brand your personal Twitter. You also need to provide your page visitors with a reason to follow you and you need to make sure they understand you are reputable and trustworthy.
One thing that you should do is to replace your default Twitter profile page background with your brand (picture).
Don't Spam
Spamming can be of many things. This includes over promoting your site on twitter. Not every follower is interested in your site.  Don't tweet useless things that nobody is interested in. For emphasis – it's all about quality.
Tweet about things you think your followers will like. Make sure it's fun and useful for them to follow you. If you don't provide what they are looking for they might just leave. If you find something cool on the internet then Tweet about it. If something happened to you and its related then tweet about it on Twitter. Just remember to be interesting.
Use A brand Account
Don't use your personal Twitter account if you want to promote yourself. Rather use your sites name as a Twitter account. As I said above: not everyone is interested in your site if they follow your personal account
Add Your Site URL In Your Profile Information
This might seem obvious to people who are using Twitter to promote their site and drive traffic to it. It's really not. I have seen countless profiles without a URL to the site. You, especially need to include it.
Be Active
You need to Tweet regularly.
What is the use of following a dead account ?
Your followers might ask the same question if they don't see if you are active. This is also somewhat obvious if you want to market your site on Twitter; but nevertheless just as important as the other points. One way of appearing active is using 3rd party Twitter tools. Such as a TwitterFeed and applications that allow you to manage your account more precisely and plan your Tweets.
Socialize
If you want to establish your name on Twitter then you need to make sure others see you are credible. Socialize on Twitter. Talk to the Tweeters; this is especially important for a new profile. If you help out your fellow Tweeters then they might just do the same for you.
Use 3rd Party Twitter Applications
One such service that you should immediately set up is TwitterFeed. It allows you to set up your feed to be tweeted on Twitter. Your newest posts will then automatically be tweeted on Twitter. You could also consider purchasing MarketMeTweet which allows you to organize and plan your tweets.  This is really a great tool if you want to really make use of marketing on Twitter. It also has loads of other useful features that I won't cover here.
Promote Your Twitter Profile
Add Twitter gadgets and widgets to your site. You need to make visitors aware of your Twitter existence. If they like your site and see your widget, chances are they might just follow you. Don't waste such opportunities. Tell people about your Twitter account on Facebook or wherever you might be on the internet.
You need to build a large quality and targeted following on Twitter in order to effectively get traffic from Twitter. Use the tips above to help you out. Make sure you establish yourself as a credible and reputable source.